Monetization for small creators
Monetization is something every creator wants to start as soon as possible. But because of some guidelines they couldn't do. Here I'm talking about how anyone can monetize themselves without any guidelines and all.
---
Must have things
These are some fundamental and general things the creator must have.
Amazing content (YouTube channel, Blog, Designer, podcasters and ALL )
Payment option (PayPal, Stripe and Razor pay)
MAIN Good viewership and fan following (You'll get to know below)
---
The way you can monetize your content is just using a website
Buy Me A Coffee
Buy Me a Coffee is a simple, meaningful way to fund your creative work.
Anyone can simple fund you if they like you work. The only thing you have to do is just share you page with other. Buy Me a Coffee provides a platform where your fans can "buy" you a coffee to show support.
Many people nowadays(including me) make living by their creators only.
---
Building Your Page
On your profile page, you basically have:
Your name and a link to your primary website. An image or video to show visitors.
Any established goals you might have for what you'll do with the money.
Your story to engage visitors.
This is what it looks like.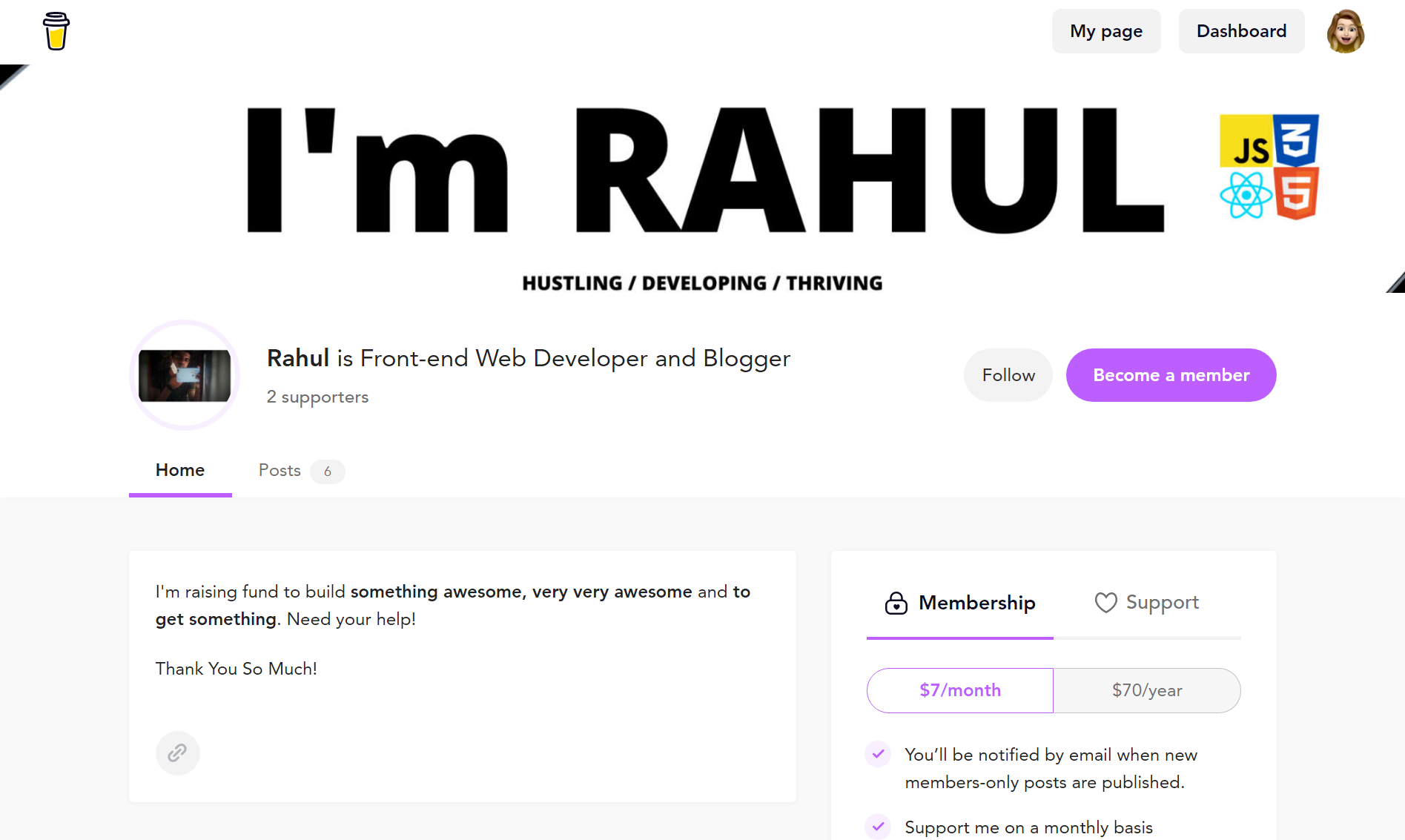 ---
Some features!
Direct relationship with your supporter

Support can get exclusive content from their creator

No Ads

They don't sell your personal data

Feature of exporting supporters

No signup required for supporter, Just one-click-payment

Invite and Earn

AND MORE!!!
---
How to get supporters?
You can use the your BMC link in your
YouTube Description
Twitter/Instagram Bio
Integrate in your website
Installation on WordPress site
Install the plugin

Visit the plugin page and click on activate then you'll come here. Just type your username at the empty space. Type the username of you BMC page. Hit the save

Add the widget on the page you want. (Recommended: Add in the footer)

You can customize your widget too.
---
Charges
For creators: They only keep 5% of how much you get.
For supporters: The credit card fee is the normal commercial transaction fees charged by PayPal/Stripe. They both charge 2.9% + $0.30 per online transaction. By default, this fee is paid by the creator, however, if you want to, you can let this fee to be charged from the supporter's end. For that, go to your account dashboard -> settings and turn off the cover credit card fee option.
---
So guy's join Buy Me A Coffee NOW!!!
Thank You !